VIRGINIA & TRUCKEE RAILROAD HISTORICAL SOCIETY
V&TRRHS Publication
No. 10
Virginia & Truckee Railroad General Superintendent Henry M. Yerington: A Family Album
by Stephen E. Drew
An insightful look at the 40+-year senior on-site manager of the V&T in Carson City. One gains a new perspective and a fuller understanding of the idiosyncrasies of the V&T and its operations by looking into the life and times of Yerington and his experiences as a secretary, his prior railroad experience, the family's large Canadian machine shop and foundry, and his successful business as a commission grain merchant and mill superintendent. It includes his more than 65 diverse business interests in Nevada and California, 1863-1910, plus a Yerington Family genealogy from the family Bible. The book is the most comprehensive work on Yerington to date...it draws heavily from Yerington's own scrapbooks of family and business photos...many never before published!
Published September, 2017
44-pages, 200+ illustrations
8 1/2" x 11", Softbound.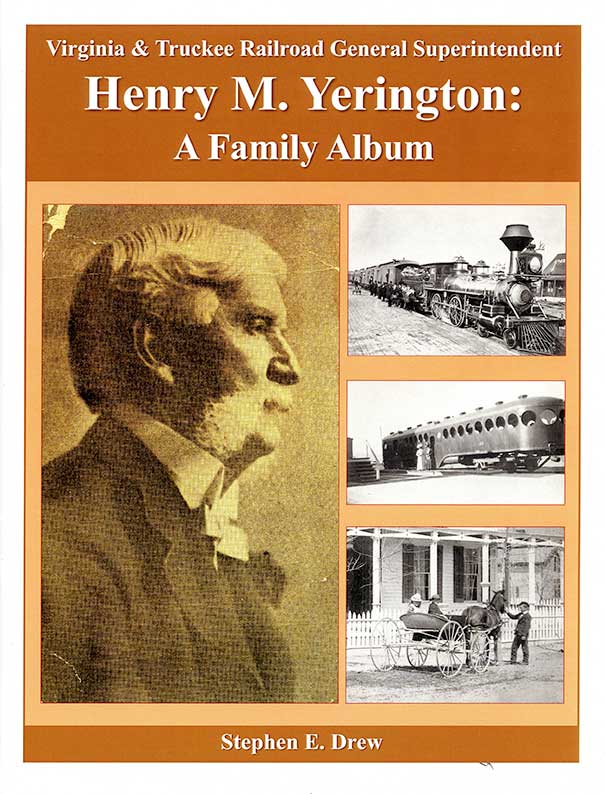 To order this publication or any other Society publication by mail, please download the order form and mail it to the address on the form with your payment.