VIRGINIA & TRUCKEE RAILROAD HISTORICAL SOCIETY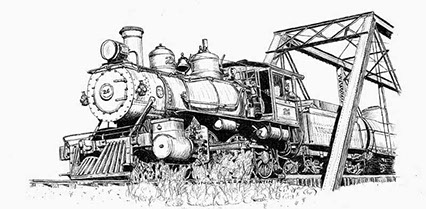 Drawing by Richard C. Datin from the Stephen Drew Collection.
Established in 2009, the Virginia and Truckee Railroad Historical Society is dedicated to the promotion of research and presentation of the history of the Virginia and Truckee Railroad, 1869 -1905, the Virginia and Truckee Railway 1905-1950, and the affiliates, the connecting rail lines and the Comstock area in general, as well as aiding in the preservation of artifacts of this period including Virginia & Truckee locomotives, rolling stock, equipment, buildings, and documentary materials. Join now!
FALL 2015 NEWSLETTER MAILING
The Fall 2015 issue of our newsletter, the V&T Telegraph, will be mailed out the first week of September. The mailing contains not only the newsletter, but the 2015 Board of Directors Election Information, including the Candidates' Statements and your Ballot. Watch your mailboxes!
Gold Dust West Casino-Hotel
On Route 50, Carson City